Paradise Mall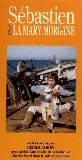 Sebastien & La Mary Morgane -- Volume 4
| | |
| --- | --- |
| Date of birth: | 1956-11-26 |
Appearances
Scott Bennett "Scotty" Jacoby born November 26, 1956 in Skokie, Illionois, is an American actor who moved to Flushing, New York, when he was 10-years-old. He was nominated for a Tony Award for his portrayal of Ally in the Broadway musical Golden Rainbow in 1968, which starred Steve Lawrence and Eydie Gorme. He won an Emmy Award for his role in the 1972 television film That Certain Summer where is played a teenager taht has to deal with his divorced father's homosexuality.

Scott Jacoby began his television career playing the role of "Hubcap," who was a friend of Josh Hall (Laurence Fishburne) on the ABC daytime soap opera One Life to Live (1968). He also had a recurring role on The Golden Girls (1988-1989) as Dorothy's musician son, Michael Zbornak.

But Scott is best known for playing adolescent deviants starting with Rivals (1972) playing a boy with an unhealthy and pathological attachment to his divorced mother. He went on to do Baxter (1973) a boy who slides into an emotional breakdown, and Bad Ronald (1974) where he plays a perverted teenage boy who lives in the walls of a house sold to a family after his mother dies.

Scott is the oldest of five acting siblings, including half-brothers Billy Jacoby (now Billy Jayne, born in 1969 - The Bad News Bears TV (1979), Bloody Birthday (1981), Beastmaster (1982), The Ghosts of Buxley Hall (1980), Cujo (1983)), Bobby Jacoby (now Robert Jayne, born in 1973 - The Wonder Years (1988), Charles in Charge (1980), Tremors (2003)), and sisters Laura Jacoby and Susan Jacoby. And he is Uncle of Miles Jacoby, Gabriel Jacoby and Keelin Jacoby all in the business. His grandfather is character actor Lou Jacobi.

He has been married to Lyn Jacoby since June 23, 1985. They have two children. Scott works as a producer and director and runs a recording studio in Los Angeles.