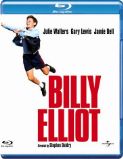 Billy Elliot - the Movie Blu-Ray

Booky's Crush
| | |
| --- | --- |
| Date of birth: | 1936-03-05 |
Appearances
Dean Stockwell is one of the few juvenile performers to succeed lifelong in films. Robert Dean Stockwell was born March 5, 1936 in North Hollywood, Los Angeles, California, the younger son of Nina Olivette, an actress and dancer, and Harry Stockwell, an actor and singer. His elder brother was actor Guy Stockwell.

He was the most sought-after boy in Hollywood in the 40's. Sometimes pouty, his cherub face won him an early role at the age of nine alongside Frank Sinatra and Gene Kelly in Anchors Aweigh (1945).

His most memorable child roles are as Peter Fry, the orphan in The Boy with Geen Hair (1948), as Colin Craven in The Secret Garden (1949), as Jed Joy in Down to the Sea in Ships (1949) -- a film made to repeat the success of Freddie Bartholomew's Captains Courageous (1937) -- and as Kim (1950) with Errol Flynn.

Before his Adult TV and film fame, Stockwell suffered the struggles of many an aging former child star. During his awkward teen years he mastered his craft in a string of guest gigs in 1950s "Golden Age of TV" series, including "The Twilight Zone," "Wagon Train," "Playhouse 90" and "The Alfred Hitchcock Hour." In 1965, he took on the regular role of Dr. Rudy Devereaux opposite Richard Chamberlain's Dr. Kildare.

Aside from a role as Billy the Kid in Dennis Hopper's cult misfire "The Last Movie" in 1971, Stockwell would spend most of that trailblazing decade stuck in lackluster guest roles on "McCloud," "Hart to Hart," "The A-Team" and "Simon & Simon."

His big comeback — some might call it his big break — came in Wim Wenders' haunting "Paris, Texas," a 1984 art house classic co-starring Harry Dean Stanton and Nastassja Kinski. Later that year, he starred as Doctor Wellington Yueh in David Lynch's now-legendary adaptation of Frank Herbert's "Dune."

The rest of that decade was filled with scene-stealing roles in acclaimed films such as Lynch's "Blue Velvet," William Friedkin's "To Live and Die in L.A.," Eddie Murphy's "Beverly Hills Cop," Francis Ford Coppola's "Gardens of Stone" and his Oscar-nominated turn as Michelle Pfeiffer's wiseguy stalker in Jonathan Demme's "Married to the Mob."

But his biggest fame came with household name status via TV: His role as Admiral Al Calavicci in the NBC time travel series "Quantum Leap" earned him four Emmy nominations from 1989 to 1993. Stockwell has been widely reported to be the godfather of actress Amber Tamblyn; however, in a 2009 interview with Parade Magazine, Tamblyn explained that Stockwell was one of three famous friends of her father, actor Russ Tamblyn, who were always around the house when she was growing up, and who were big influences on her life. The other two, in addition to Stockwell, were actor Dennis Hopper, and musician Neil Young. The word "godfather" was "just a loose term I've always used for all of them," Tamblyn explained in the interview, suggesting that Stockwell's "godfather" moniker is informal, at best.

Stockwell is an accomplished artist who creates both digitally enhanced photographs and original collages in the style of his friend and fellow artist, Wallace Berman. During his time at the University of California, Berkeley, Stockwell immersed himself in music and wrote several small compositions. As part of his friendship with musician Neil Young, Stockwell designed the album cover art for American Stars 'N Bars. Together, they directed Human Highway (1982), which Stockwell also co-wrote. The title track from Young's 1970 album After the Gold Rush is based on the title of a screenplay written by Stockwell.

Stockwell is an avid golfer and a martial artist, holding instructor rank. He is also an "avowed environmentalist."

Recommended viewing: Dean in Eugene O'Neill, Long Day's Journey Into Night (1962).

On November 9, 2021, Dean Stockwell, died at the age of 85. Representatives for the actor said he died peacefully in his sleep on Sunday while at home, according to Variety.