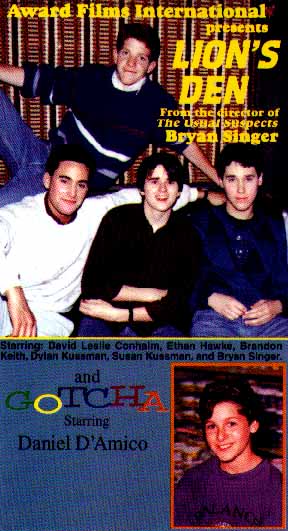 Lion's Den/Gotcha

Herkules Jonssons Storverk -- Del 1, Av 2
| | |
| --- | --- |
| Date of birth: | 1944-07-21 |
Appearances
Smart, bright Michel Ray took to acting at the age of ten like a duck to water, and he was good at it.

Michel was born in Gerrards Cross, Buckinghamshire, England, into a wealthy family has an English mother and a Brazilian father. Very suited to business Michel was to leave acting soon after his role in Lawrence of Arabia (1962), to become one of the wealthiest men in the world.

He was educated in Switzerland where he learned to ski. His parents were friends of producer Michael Balcon who was looking for a boy who could ski, to play an orphan Yugoslavian boy, for his 1954 film The Divided Heart. Young Michel fitted the part perfectly and was to go on to play other ethnic roles like a Mexican boy in his first American Film The Brave One (1956) which went on to win the Oscar for Best Screenplay, written by blacklisted screenwriter Dalton Trumbo.

He holds his own against Henry Fonda as a half-breed Indian boy in The Tin Star (1957), but it was his roles as David Gordon, the moody crippled boy in Flood Tide (1954), and of Faraj in Lawrence of Arabia (1962) that he will be best remembered.

Lawrence of Arabia (1962) took eighteen months and caused Michel to look at the effect film work was having on his education. (Michel was 16 when filming began) He decided to quit acting and subsequently attended Harvard where he graduated with a business degree.

Meantime he had continued his passion for winter sports and was a member of the British Olympic ski team at the 1968 Winter games in Grenoble, France. He was in the team again in '72 and '76 competing on these occasions in the luge. At this time he married a childhood friend Charlene, daughter of Alfred "Freddie" Heineken.

His business career was blooming.... After university, he joined White Weld & Co. moving on to NM Rothschild and Credit Suisse First Bank Boston. In his London city career in investment banking, he made his first millions. In 1995 he joined Nikko Securities and in 1998 became the first non-Japanese member of the board of directors.

Charlene's mother was Lucille Cummins daughter of a Kentucky Bourbon maker. Her father Freddie died in January 2002 and left his controlling interest, 50.05%, in the Heineken brewing empire to the couple. His wealth is estimated at three billion pounds sterling, or, two billion dollars. Michel's life story is more glamorous than many a Hollywood fiction. He is currently one of the wealthiest men in Europe with a net worth of 4.6 Billion Dollars.